Shaam-E-Ghazal
Meet the artists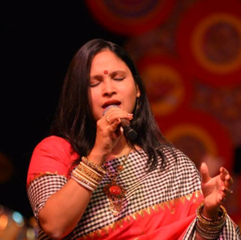 Anindita Das
Anindita Das is a singer from the greater Seattle area. She is originally from Bangladesh, where she was trained in north Indian classical music and different forms of light music by different gurus. She was an enlisted "Nazrul Geeti" singer in Bangladesh National Television and Radio. While in Bangladesh, she won in many prestigious music competitions at national level. Since 2008, she has been pursuing her khayal training from Smt. Srivani Jade. She performs light music regularly with multiple local groups. Her first Bengali album was released in 2008, for which she received the "Best Debut Singer" award in Bangladesh. She is a Software Engineer by profession and mother of two adorable kids.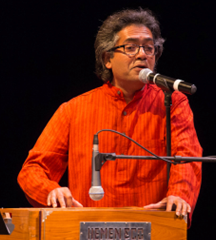 Ashim Bhaumik
Music has been Ashim Bhaumik's passion from his childhood. He learnt tabla for a short while from Shri Kashinath Chakraborty, a disciple of Pt. Kanai Dutta. He soon realized that he was inclined more towards vocal music and started learning Bengali as well as light classical songs on his own from recorded music and taught himself harmonium to go with his vocals. During his college years, he was trained in Hindustani Classical music by his uncle Pt. Sudhindra Bhaumik, a disciple of Late Pt. K.G. Ginde, Pt. Dinkar Kaikini and later Pt. Sunil Bose of SRA Calcutta. During these years Ashim came in contact with many luminaries in the Classical Music world in Bombay and Calcutta and has been deeply influenced by them. Since his move the United States in 1992, Ashim has been associated with a number of cultural organizations and more recently, in Seattle with Pratidhwani, where he is a regular performer in Pratidhwani's light music group.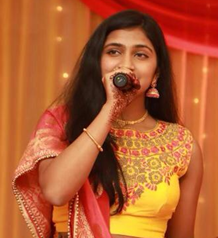 Sanika Joshi
Sanika has been learning Hindustani Classical Music for over 12 years. Growing up, she was the lead vocalist in her Bollywood youth band, Teen Taal, where she picked up singing semi-classical and film songs. Ghazal music has been a part of Sanika's musical career for as long as she can remember. Her father, Abhay Joshi, first introduced her to singing Ghazal songs by Mehdi Hassan and Gulam Ali at the age of 4. Since then, she has sung and performed Ghazal songs across many concerts in Pune and Seattle, and has maintained a close connection to the genre today. Additionally, she got exposure to Western classical music by partaking in All-State and All-Northwest Choir— an audition-based program— all throughout her middle and high school.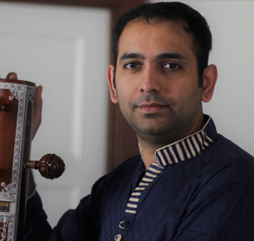 Sourish Chatterjee
Sourish started his music journey two decades ago. Over these years he has learned from some of the great maestros of the art form of North Indian (Hindustani) classical vocal music. In 2007 Sourish was awarded the prestigious Senior National Scholarship in the field of Hindustani classical music from the Ministry of Culture (Government of India).
Sourish has special interest in teaching as he believes that it promotes self learning and also gives rich insights into the nuances of vocal music because of the uniqueness of each person's voice and style of singing. He is convinced that in Indian music or any other arts form, it's best to remain a student because the possibilities of growth and learning are endless, so he also continues his own learning under the guidance of Pandit Ritesh Mishra, a frontline vocalist from India who also hails from the family of legendary Benaras Gharana.
Sourish primarily focuses on teaching hindustani classical and semi-classical vocal music which includes voice training. He is excited and looking forward to sharing his knowledge and skills to the aspiring students of the greater Seattle area !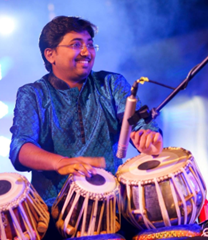 Supratik Chatterjee
Supratik Chatterjee started his musical journey in tabla at a tender age of four from the doyen of Indian Classical Music, the legend Late Pandit Shankar Ghosh. He was under his tutelage for 24 years. During this tenure learnt the nuances of different gharanas of Farrukhabad, Delhi, Lucknow, Ajrada and Banaras from Pandit ji and his son Grammy winner Bickram Ghosh.

His first public performance was at the age of six and for last 30 years he continued to perform tabla solo and accompaniment in major festivals across the globe. He is featured on television (Doordarshan & France national TV), All India Radio.

Accompanied Grammy award nominee slide guitarist Pandit Debasish Bhattacharya in the Rhythm of Earth Festival in south east Asia. Toured Thailand with his group of young musicians and performed in major music festivals.

Got featured in Sony's Global music video project "Body drums" conceived by Bickram Ghosh.

At a very young age, he won several awards, stood 1st in numerous music competitions and was invited by Bharatiya Sanskriti Parisad to present a tabla solo in a concert titled "Children of International Repute of UK & India". He was the only Indian there.

Supratik specializes in the advanced mathematics of Taala and Tihais and imparts this training to tabla players, vocalists and instrumentalists.

Besides being a musician, he is a successful tabla teacher and software professional.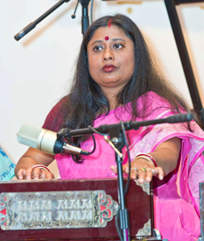 Saswati Pal
aswati started her vocal training at the age of eight, for about six years. Her parents always encouraged her to pursue music. She enjoys being involved in any musical activities. Currently, she is learning classical music under the able guidance of Srimati Shuchita Athalekar.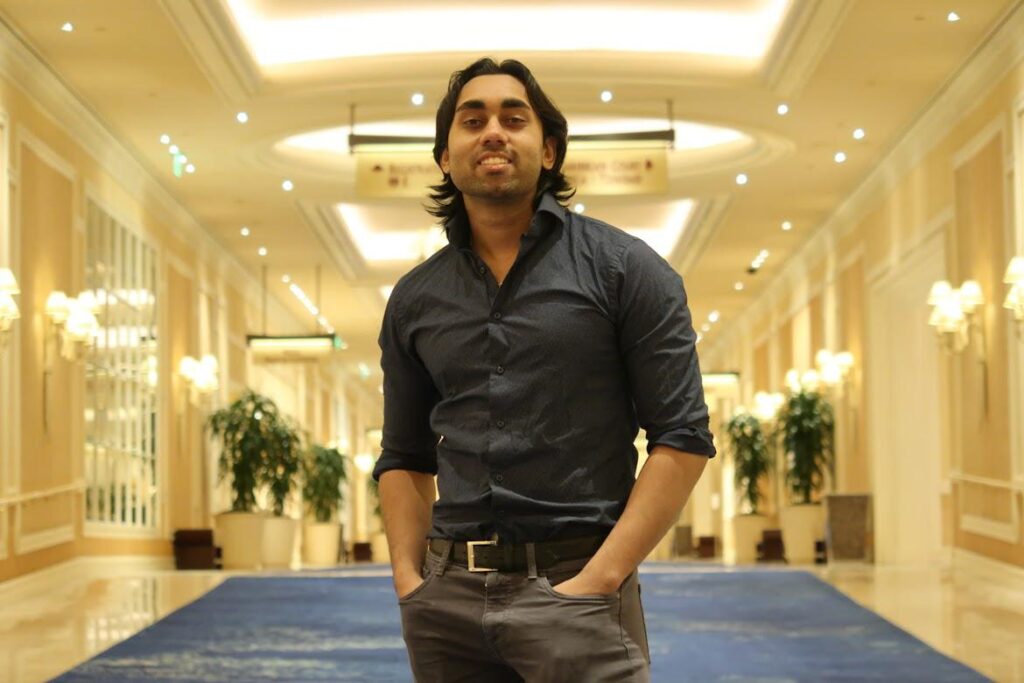 Arjun Srivastava
Arjun is a guitarist from California who recently graduated from the University of Washington. Arjun has been playing guitar for 10 years now and has delved into a wide variety of musical genres and styles over the years, including jazz, flamenco, rock, classical, rnb, and more. At the University of Washington, he was the head of an Indo-Western fusion band called "Unplugged" where he was first introduced to Indian musical styles. This will be Arjun's first Ghazal concert, and he is excited to share this experience with so many talented musicians!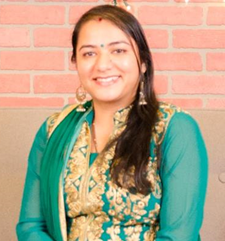 Divya Rusia
Divya, a software engineer from Bhilai, Chhatisgarh, now resides in Seattle. She is a devoted mother to a joyful 4-year-old and enjoys spending quality time with her family. Alongside her profession, Divya nurtures her passion for art, including painting, crafts, and writing poems and shayaris, which she has been doing for 17 years. Her poems and articles have been featured in corporate newsletters and international Hindi magazines. Divya actively contributes to her community through involvement in local theater groups and production houses, organizing shows to raise funds for renowned non-profit organizations. Notably, she served as a set director for the Tamil film 'Vellaipookal,' a suspense thriller filmed in Seattle, now available on Amazon Prime. Divya aspires to publish a book and showcase her art in an exhibition in the future.